Honduras election: conservative close to victory. Is Zelaya crisis past?
In Honduras election, conservative opposition candidate Porfirio Lobo is ahead with most of the votes counted. Many Hondurans want to move on from the political crisis with or without Manuel Zelaya.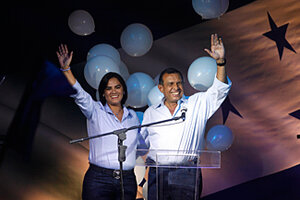 Edgard Garrido/Reuters
Tegucigalpa, Honduras and Mexico City
If ousted Honduran president Manuel Zelaya ever feared irrelevance, he has probably never felt it as acutely as now.
In presidential elections Sunday, conservative opposition candidate Porfirio Lobo won the race, according to exit polls. Though there were scattered reports of repression, the day passed without major incident.
Despite calls for boycotts, turnout seemed to be no lower than normal. And although many countries in the region refused to recognize the results, the event – which has been the key negotiating point for the reinstatement of Mr. Zelaya, still holed up in the Brazilian embassy – has come and gone.
Many Hondurans hope this is the beginning of the end of the standoff. Alex Estrada, a local bar owner who voted for Mr. Lobo, says having successful elections without much violence or upheaval today signals a new era for Honduras after five months of political strife. "The crisis no longer exists," he says.
The Honduran electoral commission had not published official results as of press time, but exit polls by local media showed that Lobo, of the National Party, had captured over half of the votes. With 62 percent of ballots counted, Lobo led with 52 percent, trailed by Elvin Santos of the Liberal Party, who got 36 percent.
Zelaya had called for boycotts, and claimed in a statement that the abstention rate was up to 65 percent. "As president of Honduras I declare this process illegitimate," he said. But the electoral tribunal says voter turnout was 62 percent.
---