Haiti earthquake relief: Aid workers struggle to provide help
Haiti earthquake relief workers say they are hampered by quake's devastation. All three of Medecins sans Frontieres' (MSF) centers in Haiti were crushed. Workers couldn't drive around because Haitians were sleeping on the roads. But the international airport is now open for aid flights.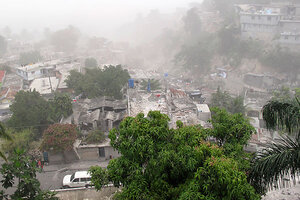 Nabil Hijjawi via Your View/Reuters
As Haitians pick through rubble in the wake of last night's 7.0 earthquake, aid groups around the world are mobilizing at a breakneck pace to help the Western Hemisphere's poorest nation recover.
The good news: Many aid groups have operations in Haiti, which has long been crippled by political instability and was pounded by a series of hurricanes in 2008. But the bad news is that many of the buildings housing their operations have been crushed by the temblor, and they were not immediately able to fly in more aid, because Haiti's international airport in the capital, Port-au-Prince was closed.
"The level of care we can provide is severely limited," says Toronto-based Paul McPhun, part of Medecins sans Frontieres' (MSF) global emergency management team for Haiti. "Already things are getting overwhelmed. We're struggling to manage a quite high case load, and it's very difficult to follow what exactly is going on from here."
All three of MSF's centers in Haiti were crushed so badly they cannot be used, says Mr. McPhun, adding that MSF staff couldn't drive to help anyone, because "people were sleeping on the roads where we would have liked to have traveled."
Help is on the way, says McPhune, adding that MSF's been flooded with calls to help and that some 70 specialists are ready to board chartered planes to Port-au-Prince.
"We have no shortage of volunteers and that's moving very rapidly," he says. "The challenge is how to get them there."
---