Chile, once Latin America's economic model, now overtaken by Brazil
Conservative tycoon Sebastian Piñera won the second round of Chile's presidential election on Sunday in part due to voter faith that he can revive the economy. Meanwhile, Brazil's economy is booming.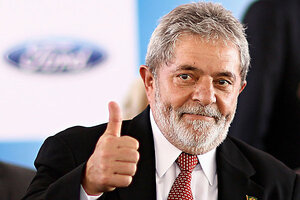 Ricardo Stucker/Handout/Reuters
Santiago, Chile; and Rio de Janeiro, Brazil
For two decades, Chile was the "teacher's pet" of Latin America, the student who always brought home straight A's.
Economists gushed that the Andean country's commitment to free-market policies and democratic reform made it a model for the developing world. And as Chileans enjoyed the trappings of a sustained average growth rate of more than 5 percent per year, poverty plummeted from 40 percent to 13.7 percent. But in the past year, Chile's gold star has gone to its hulking neighbor to the east, Brazil.
The agricultural juggernaut just won its bid to host the 2014 World Cup and the 2016 Olympics; it discovered vast oil deposits that could turn it into a major oil exporter; it was one of the last countries to be pulled into the global economic crisis and one of the first to pull out.
To be sure, the so-called Chilean "miracle" that constructed the most solid economic foundation in Latin America still stands, and some of its slower growth today is merely a result of its own maturation. But Brazil is finally claiming new status in the region, and not just for its size.
"We always looked at Chile as something better than us," says Arthur Ituassu, a professor of international relations at the Pontifícia Universidade Católica in Rio de Janeiro. "There is a growing sense in Brazil that we are now the major actor in South America."
---