Haiti earthquake: Why the Caribbean is a mini ring of fire
The forces that led to the Haiti earthquake are a reminder that the idyllic Caribbean is one of the more geologically active spots on earth, and that a powerful earthquake could strike the region again.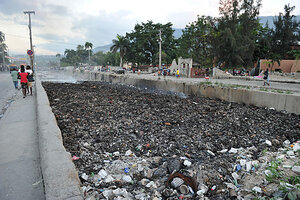 Mary Knox Merrill/Staff
Last week's devastating earthquake in Haiti and yesterday's magnitude 5.9 aftershock (downgraded by the US Geological Survey after an initial report estimated it at 6.1) serve as tragic reminders that as idyllic as many spots in the Caribbean Sea may seem, they can periodically be dangerous too.
The region is no stranger to volcanoes and earthquakes, thanks to the interaction of one of the smallest – yet one of the most complex – crustal plates on the planet.
Known as the Caribbean Plate, this slowly migrating, slowly morphing patch of Earth's crust exhibits virtually every feature found on the world's largest plates.
It's home to a spreading center – one of the deepest on Earth – where new material emerges from deep beneath the crust to replenish the sea floor. Portions of it are bounded by subduction zones, where one crustal plate plunges beneath another. Some of these trigger the formation of volcanoes. It has a platelet, a kind of smaller plate within a plate, on which the island of Hispaniola – home to Haiti and the Dominican Republic – rides. And it exhibits the kind of long, side-slipping faults similar to California's San Andreas Fault.
---