Brazil carnival queen: A 7-year-old?
One samba school's choice of Julia Lira – a third-grader who likes watching soap operas and singing along to Beyoncé – to be its lead dancer at carnival is drawing fire from some child rights advocates.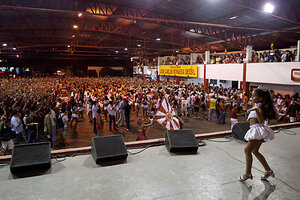 Felipe Dana/AP
Every year at carnival time in Brazil, one woman stands out from the thousands of others as they samba for adoring crowds and millions of TV viewers.
She is the rainha da bateria, or queen of the percussion section, one of the most coveted roles in any carnival "school." Typically the queen chosen is a glamorous and scantily clad bombshell.
But this year the Viradouro samba school has picked Julia Lira, a third-grader who likes watching soap operas and singing along to Beyoncé. And that is drawing criticism from some children's rights groups.
"We are in favor of children taking part in carnival," says Carlos Nicodemus, the head of the Rio de Janeiro state council for the defense of children and adolescents. "But the role of the queen of the bateria is a highly eroticized one and we here in Rio are in the midst of a campaign to combat the sexual abuse and exploitation of children. In society today, the sexualization of children comes at an ever earlier age and is more and more common. I don't think she should be allowed to parade."
Too young?
Mr. Nicodemus asked a judge to stop Lira from participating in the parade, saying she is too young for such a sexualized role. The judge is to rule before Viradouro walks into the Sambadrome shortly after midnight on Sunday night.
---