Jamaica attacks reveal ties between gangsters and politicians
The Jamaica attacks this week, which saw militants aligned with alleged drug trafficker Christopher 'Dudus' Coke assault a downtown Kingston police station, show how strong Jamaica's gangs have grown thanks to their involvement in local politics.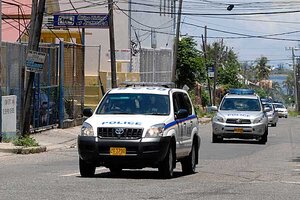 Andrew P. Smith/Reuters
With at least five people killed in the Jamaican capital of Kingston and gangsters close to alleged drug trafficker Christopher "Dudus" Coke threatening more Jamaica attacks, local officials sought to contain the spread of violence.
Two days of fighting between drug gangs barricaded in the Kingston neighborhood of Tivoli Gardens and the police were sparked by plans to extradite Mr. Coke, the alleged leader of the Shower Posse to the US. The fighting has since spread to other poor neighborhoods in the capital. Coke is suspected of being holed up in Tivoli. The Shower Posse, a successful and violent Jamaican drug distributor, was suspected of killing hundreds in the 1980s.
The unrest in Kingston is a direct challenge to the government's power by gangs that were nurtured by successive Jamaican governments. For over 30 years, leading politicians have relied on gang leaders, or "dons" in local parlance, to dominate their neighborhoods and deliver votes come election time. In return, they have been given government contracts, arms, protection from the law -- and more or less total control of their neighborhoods, which came to be called "garrison communities" as much for their strict commitment to one of the two main political parties as for the bloody turf wars the garrisons fight with each other.
---