Why is Cuba releasing 52 political prisoners?
Cuba says it will start releasing 52 political prisoners – the biggest release in more than a decade – today. Spain conducted the negotiations, but some Cuba analysts expect the US to respond by easing the American embargo on Cuba.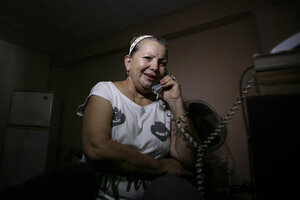 Franklin Reyes/AP
The dramatic decision by Havana to release 52 political prisoners – a third of all those currently held – has raised expectations that a reciprocal move by the US could begin to more quickly improve relations between the US and Cuba.
The announcement was made Wednesday, after a meeting between Cuban President Raul Castro, the Roman Catholic Archbishop of Havana Jaime Ortega, and Spain's foreign minister, Miguel Angel Moratinos. It is the largest single release of political prisoners since 1998, when a visit by Pope John Paul II prompted a large-scale prisoner release.
According to a statement on the website of the Archdiocese of Havana, five of the prisoners will be released in the coming hours and sent to Spain. Six will be moved immediately to prisons closer to their homes. Those remaining are to be freed within the following three to four months.
"This opens a new era in Cuba with hope of putting aside differences once and for all on matters of prisoners," the Spanish Embassy said in a released statement.
But William LeoGrande, Cuba expert at American University in Washington, says that the deal on its own will have more significance for Cuban-European relations than the US, which has listed Cuba´s human rights record at the center of its demands before relations can be normalized.
---