Edgar Valdez Villarreal – suspected drug lord 'La Barbie' – arrested in Mexico
Edgar Valdez Villarreal, nicknamed 'La Barbie,' was arrested by Mexican authorities in an operation Monday near Mexico City. He is alleged to be a top player in the brutal Beltran Leyva Cartel.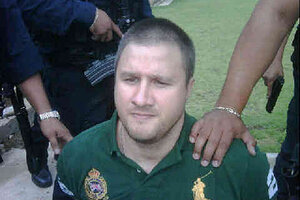 Mexico's Public Safety Department/AP
Mexico officials announced late Monday that they captured Edgar Valdez Villarreal, or "La Barbie," one of the country's most-wanted men. Authorities have described him as a powerful drug lord responsible for supplying the American market with cocaine.
The arrest handed Mexican President Felipe Calderón a badly needed victory just ahead of his annual state-of-the-union address Wednesday.
Mr. Valdez, who was born in Texas and nicknamed "La Barbie" for his fair complexion, was captured Monday outside Mexico City. He is the third major trafficking suspect to be taken down in the past eight months. The military killed Ignacio "Nacho" Coronel, a suspected leader in the Sinaloa Cartel, in a July operation in Jalisco. In December, Arturo Beltran Leyva, the founder of a group that Valdez is allegedly vying to control, was killed by Mexican marines.
The capture is already being touted by Calderón's administration as a major success. "The capture of Valdez Villarreal is a high-impact blow against organized crime," national security spokesman Alejandro Poire said in an e-mailed statement Monday night.
---
Follow Stories Like This
Get the Monitor stories you care about delivered to your inbox.