Trapped miners in Chile: families camp out above ground – awaiting loved ones' rescue
Trapped miners and their relatives, who are camped out on a hillside above the mine, mark one month since the mine collapsed.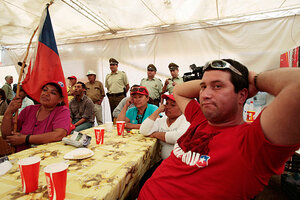 Luis Hidalgo/Reuters
Family members and the government are trying to keep optimistic about the rescue of 33 Chilean miners trapped in the San Jose mine a month ago.
They are also having to confront the tensions that come along with weathering the wait living alongside fellow family supporters amid the highs and lows of a difficult rescue, which could be four months away.
"We have to find ways to pass the time up here," says Chata Segovia, who is waiting for her brother Dario to be rescued. "We have to show our own good spirits to send the miners positive energy."
Camp Hope, as relatives have called the makeshift gathering, lies in what may be one of the world's bleakest environments – the Atacama Desert, a lonely stretch of taupe-colored plains and rolling hills studded with rocks.
But below the sands of this desert lie some of the world's richest mineral deposits – an area where the 33 Chilean miners could remain trapped.
Fried fish, vigils – even some playful verses
Families and government workers marked the one-month anniversary of the mine's collapse over the weekend with a memorial on the hillside above the mine, as well as a fried fish lunch.
---