Haiti election commission under scrutiny for ties to President René Préval
Haiti holds its first presidential debate Saturday, even as President René Préval's ties to the election commission has observers asking whether the CEP rejected candidates based on politics.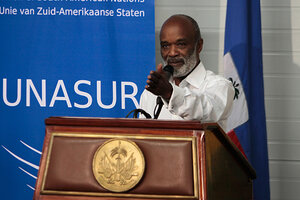 Arnulfo Franco/AP
As Haiti gears up for its first-ever internationally televised presidential debate Saturday, confidence in the government's ability to hold a credible poll is being undermined by allegations that President René Préval is attempting to sway the election.
Details of an Aug. 16 meeting between Mr. Préval and members of Haiti's election commission (CEP) has observers questioning whether the CEP rejected candidates based on politics instead of the Constitution.
The meeting came days before the CEP disqualified hip-hop star Wyclef Jean and 14 other candidates from running. It was confirmed by multiple sources and, while not in itself unprecedented or a sign of political manipulation, puts scrutiny on a supposedly independent body that is meant to ensure elections are free and fair.
"I have someone at the palace who told me about the meeting between Préval and the CEP," Haitian Sen. Youri Latortue told the Monitor. "In the meeting they decided which people would be on the list."
Mr. Préval has met in recent weeks with many of the remaining presidential candidates, which some have interpreted as a further attempt to maintain control over the election. Préval, elected in 2006 to his second term, is constitutionally barred from running again.
---