Mario Vargas Llosa: Why the 2010 Nobel Prize winner stirs controversy in Peru
Mario Vargas Llosa's political identity as a right-wing maverick as made waves on both sides of Peru's political spectrum since the 1980s.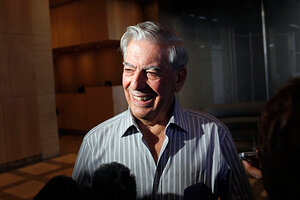 Seth Wenig/AP
While known internationally for his writing, 2010 Nobel Prize in Literature recipient Mario Vargas Llosa has also been a highly controversial political figure in his native Peru.
His political identity as a right-wing maverick began in the late 1980s when he led a mass movement against a decision by President Alan García, then in his first term (1985-1990), to nationalize the country's banks.
That movement morphed into a political party, Fredemo, with Mr. Vargas Llosa at the helm. Many of Peru's current political elite got their start with the movement and Vargas Llosa was easily expected to capture that country's presidency in 1990. The novelist-turned-politician, however, did not count on the emergence of an unknown math teacher, Alberto Fujimori.
RELATED: Mario Vargas Llosa wins 2010 Nobel Prize for Literature. Who else won in the past decade?
Mr. Fujimori came from nowhere to easily beat Vargas Llosa. Fujimori co-opted the economic and political recipes that Vargas Llosa espoused on the campaign trail.
Vargas Llosa became a leading international voice against Fujimori after the 1992 decision to close Congress and the judiciary and rule by decree. He was one of the few people denouncing Fujimori, who was president from 1990 to 2000 and is now serving a 25-year prison sentence on human rights abuse charges.
Politics and the prize
---