Mexico touts progress in drug war, but death toll rises to 30,197
A Mexican mother protesting for justice in her daughter's unsolved death was killed last night, adding to what was already the deadliest year in Mexico's drug war.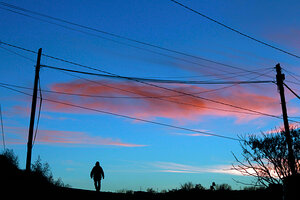 Dario Lopez-Mills/AP
Gunmen on Thursday killed a Mexican mother who was protesting in front of a governor's office for justice in her daughter's unsolved death, adding yet another reason why 2010 was the deadliest year in Mexico's four-year drug war.
Mexico released figures this week showing that 30,196 people have been killed in drug-related violence over the past four years, with a record 12,456 killed from January through November, compared to 9,600 deaths in 2009 and 5,400 in 2008.
The killing last night of Marisela Escobedo Ortiz in Chihuahua city brings the total death count to at least 30,197.
IN PICTURES: Mexico's drug war
The Associated Press reported today that investigators suspect one of the gunmen was Sergio Barraza, the main suspect in the August 2008 killing of Ms. Escobedo's 17-year-old daughter. A judge dismissed the case against Mr. Barraza in April, and three days ago Escobedo began her sit-down protest outside the governor's office despite death threats.
Government touts progress
The death toll from the drug war has surged each year since Mexican President Felipe Calderón took office and began dispatching the military to fight organized crime. Violence has been particularly brutal along the US-Mexico border. Ciudad Juárez also saw record violence this year: Its death toll surpassed 3,000.
---