Why 'Baby Doc' Jean-Claude Duvalier returned to Haiti: 5 theories
Did 'Baby Doc' Jean-Claude Duvalier unexpectedly return to merely 'see his family,' as his lawyer maintains? Or was it a maneuver to finagle $6.2 million from his frozen Swiss account?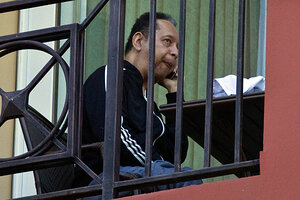 Ramon Espinosa/AP
Port-au-Prince, Haiti; and Santo Domingo, Dominican Republic
Jean-Claude "Baby Doc" Duvalier's surprise return to Haiti after nearly 25 years has baffled observers and spurred dueling theories over why the former dictator returned now.
What could have motivated Mr. Duvalier to walk into a hornet's nest? While no one outside Duvalier and his circle know for sure, observers speculate that it could be anything from his ailing finances to health problems or that he is a pawn being used to divert attention from Haiti's protracted political situation.
"At this stage, we don't know why he would have come back. Maybe he was testing the waters, planning to come for a few days and leave. We don't know," says Susan Purcell, director of the Center for Hemispheric Policy at the University of Miami. "What it has done is make murky waters in Haiti even murkier."
Theory 1: 'Duvalier came back to see Haiti'
Since his Air France flight touched down Sunday evening, Duvalier has not spoken publicly about his motive for coming back to a country he ruled brutally for 15 years before fleeing in 1986 to France. But those close to him say his motives were apolitical and he merely wants to help his country in his twilight years.
---