Hugo Chávez challenges Venezuelan 'birthright' to cheap gas
In Venezuela, Humberto Patadilla pays just under $1 for 21 gallons of gasoline. If Hugo Chávez raises gas prices, he says, it could 'cause an explosion against him.'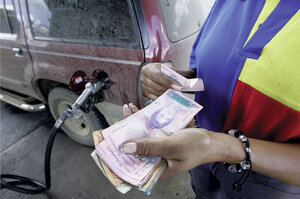 Howard Yanes/AP/File
Venezuelans have endured blackouts, water rationing, and skyrocketing inflation. But ask them to pay more than $1 to fill up their gas tanks and you could be inciting revolution.
"Absurd!" says Humberto Patadilla, a 60-year-old mechanic, at the thought of paying more. To many in Venezuela, which has the largest petroleum reserves in the Western Hemisphere, cheap gasoline is a birthright.
"There's more than enough gasoline. [President Hugo Chávez] is giving it away to the rest of the world, why raise the price here?" Mr. Patadilla says as he pays just under $1 to top off an old, beat-up Mercedes with 21 gallons of gasoline.
Vehement in his disdain toward the president, Patadilla finds one potential benefit to higher gasoline prices: It could unify this ideologically polarized nation "and cause an explosion against him."
And for that very reason, analysts say, President Chávez won't cut the gas subsidy for now, despite its costing the government at least $1.5 billion annually at a time of increasing financial strains. Potential for populist backlash is too great to risk before a 2012 presidential election, reflecting the balancing act leaders face worldwide between rising gas prices and voter discontent.
While Chávez now appears focused on efforts to mediate a peace deal for Libya's ongoing civil conflict, he took on the oil subsidy recently when he lectured Venezuelans that cheap gas can't last.
---