Michael Ignatieff: Canadian candidate struggles to prove his Canadianness
Michael Ignatieff, the Liberal Party candidate in Canada's May 2 election, lags far behind in the polls. His main problem: He spent too much time south of the border.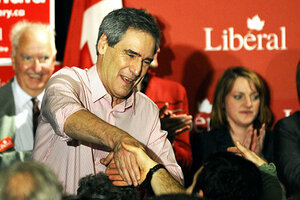 Dan Riedlhuber/Reuters
For a man who has spent most of his adult life traveling the inner circles of British and American intelligentsia, Michael Ignatieff seems remarkably comfortable with the working class crowd that has gathered in a renovated train station in Canada's steel manufacturing capital to meet him.
With the obligatory handshaking and baby-kissing out of the way, Canada's Liberal Party leader takes his place at the front of the room, tucks his open-collar shirt loosely into his pants, and walks the audience through his party's platform, emphasizing middle class concerns such as education and money to care for elderly parents at home. Then he allows his patrician face to broaden into a smile and brings the house down with a child's political joke about why the chicken crossed the road.
"He did it to avoid a debate," Mr. Ignatieff says, taking a swipe at sitting Prime Minister Stephen Harper's refusal to meet him one-on-one in a televised debate.
Six years after leaving his post as the influential and respected head of Harvard's Carr Centre for Human Rights, Canadian-born Ignatieff is finally getting a chance at the job he came home for – he is running to become Canada's next prime minister.
But for all his ease in front of party supporters in places like Hamilton, Ignatieff is a long way from convincing Canadians his impeccable international credentials qualify him to lead the country. And he doesn't have much more time to make his case as Canadians vote on May 2.
---