Peru presidential victor Humala faces balancing act
After edging out Keiko Fujimori in one of the tightest elections in the country's history, Ollanta Humala will try to help the poorest Peruvians while still maintaining Peru's economic growth.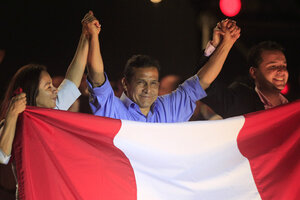 Martin Mejia/AP
Ollanta Humala, a retired military officer, was elected president of Peru on Sunday. Humala's victory means a leftward shift in Peruvian policies, though he claims his model will not emulate Venezuela, as his critics fear.
Mr. Humala defeated Congresswoman Keiko Fujimori in one of the closest races in the country's history, receiving slightly more than 51 percent of the votes with 88 percent of the vote counted. The tightest race before this contest was in 2006, when Humala lost to current President Alan Garcia by five points.
Humala won 17 of the country's 26 regions, including massive victories in the southern highlands, coming close to 80 percent in several highly populated departments. Ms. Fujimori won in nine departments. Her most important victory was in Lima, the capital and home to one-third the population, where she scored a double-digit victory. She also carried the voter-rich northern coastal departments.
Humala now has to begin crafting an administration that will be closely watched by the business sector and much of the media, which were openly hostile to his candidacy, and supporters who voted for change in the economic model. It will not be easy.
"I voted for Humala, but I am still not sure," said Edwin Lozada, a college student studying electrical engineering. "I agree with him that more people need to benefit from economic growth, but if he tries to do too much, things could get out of control and everyone will lose."
---