US boosts funds to fight Central American drug crime
But even with more money, Central American countries still face an uphill battle in fighting inefficiency and corruption that hinder their anticrime efforts.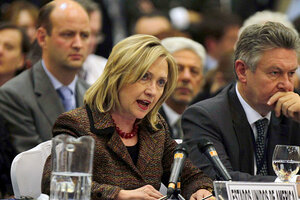 Jorge Dan Lopez/Reuters
As Central America's leaders sought more help from abroad this week in their fight against violent drug cartels, it was increasingly clear that solving the region's security problems would require more than just money.
Presidents attending a two-day regional summit in Guatemala City warned that the current surge of violence, fueled by drug traffickers, threatens the entire hemisphere, and pledges for financial assistance from the US and development banks approached $2 billion dollars.
But doubts remain about whether leaders are prepared to implement the reforms needed to take on organized crime groups that often have more resources than the weak states they terrorize.
US Secretary of State Hillary Clinton called on Central American countries to assume their "shared responsibility" in fighting drug traffickers. She announced that the administration would increase assistance to the region by $40 million to $300 million this year, still a much smaller amount than the billion dollar sums guaranteed to Mexico and Colombia in the past decade.
"The folks at the State Department that are running the Central American Regional Security Initiative – they are very skeptical about the ability of Central American countries to absorb, and spend effectively and wisely" any increase in international aid, said Kevin Casas-Zamora, a senior fellow at the Latin America Initiative at the Brookings Institution.
---