Can Venezuela's anti-Chávez politicians unite?
As Venezuelan President Hugo Chávez's health and future look uncertain, the political opposition plans to back a single candidate to oppose him in next year's presidential election.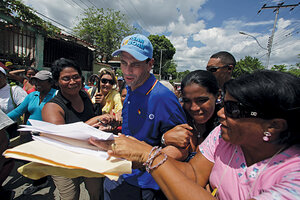 Fernando Llano/AP
Women shriek and whip out their camera phones as political activists begin chanting "Sí, se puede!," the Spanish-language version of "Yes, we can!"
Several dozen residents of a nearby hillside barrio have gathered in a small plaza to meet a new crop of local candidates, but the wave of gasps that rolls over the crowd as former Mayor Leopoldo Lopez arrives reveals who is the star of the show.
"I'm here to back him, to support him and his candidacy for president," says Isabel Lozada, a secretary from a modest Caracas district. "He's a young man with good ideas." Her friend, Rosario Contreras, adds, "He's a fighter, especially for humble people like us, the people from the barrio."
As more voters like Ms. Contreras voice their disillusionment with President Hugo Chávez's leftist government, Mr. Lopez and other opposition candidates are crisscrossing the nation, organizing rallies and hoping to build on what they say is a growing chorus for political change.
Sensing that this could be their best shot at victory, all the parties opposed to Mr. Chávez have agreed to put aside their differences and back a single candidate to be chosen in a February primary. The Harvard-educated Lopez, who long advocated for such a primary, hopes to be among the candidates but says he will support whichever nominee is picked.
"This candidate will have to be assumed as the captain of the team, but one who cannot win without the rest of the team," says Lopez.
The decision to hold a primary is a victory for a younger generation of Venezuelan leaders who for some years were locked in a generational battle with traditional party elders, most of whom held seats before Chávez stormed onto the political scene in the late 1990s. The new leaders are, on average, around 40 years old and have embraced Chávez's populist vision but believe that private investment and economic growth are the best ways to fight poverty.
---