US leans on Guatemala to enforce trade pact
The Obama administration's case against Guatemala, over its failure to protect unions within its borders, is seen as an attempt to garner US union support for stalled trade agreements.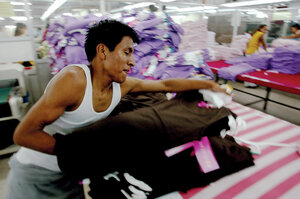 Daniel LeClair/Reuters/File
Trade agreements are increasingly difficult to pass in the United States, and their future may rest on a strategy the Obama administration is testing in the tiny Central American nation of Guatemala.
Seven years after Guatemala signed a free-trade pact with the US that included an agreement to enforce its labor laws, Guatemalan union leaders complain that they are still assassination targets, and that businessmen still illegally fire workers.
The apparent failure to protect union workers has prompted the US to take unprecedented steps to force Guatemala to respond, in what may be part of President Obama's broader strategy to win support from US unions and Democrats in Congress for stalled trade agreements with Colombia, Panama, and South Korea. Those deals are key to his bid to boost job creation via trade.
"It's an effort to send a signal to Obama's labor allies that the administration will enforce the labor provisions that are in trade agreements," says Christopher Sabatini, senior director of policy at the Americas Society and the Council of the Americas in New York.
'An anti-labor culture'
Despite the increased external pressure, Guatemalan union leaders say their government continues to exclude them from talks with the US. The country has a long history of aggression against organized labor, which is a common theme cited by opponents of new trade agreements, especially in Latin America.
---