Peru's newly sworn-in Humala will face remnants of Shining Path
It is unclear whether the two modern Shining Path factions are revolutionaries or simply drug runners, but President Humala, who was sworn in today, has promised to 'wipe out' the groups.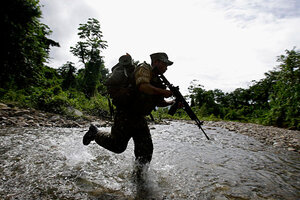 Martin Mejia/AP/File
Peru's Maoist Shining Path insurgency should be a thing of the past. The main leaders were arrested nearly 19 years ago and remain behind bars, where instead of inciting world revolution, they have been calling for a "political solution" and fighting for visitation rights and other little perks.
This Andean nation is also vastly different from May 1980, when the Shining Path burned ballot boxes in a small mountain hamlet, launching its 12-year war against the state. Nearly 70,000 people were killed during the conflict, 56 percent of which were attributed to the Shining Path by an August 2003 report from the Truth and Reconciliation Commission.
Despite all the changes, President Ollanta Humala, who was sworn in today, will be the seventh president since 1980 to try and wipe out the Shining Path. He pledged to do as much during his victory speech on June 5, calling the rebels "insane terrorists." The task will not be simple.
While politically and military defeated, Shining Path factions have tried to stay alive in two areas of Peru's vast jungle region, claiming the revolutionary mantle and continuing to inflict losses on security forces and the civilian population. At the same time, the old guard, including a number of leaders who have been released from prison after serving their sentences, have formed a legal political party, the Movement for Amnesty and Fundamental Rights (Movadef). The party advocates for amnesty and release for all "political prisoners." This would include Shining Path founder and leader, Abimael Guzmán.
---