New species emerge as rebels fade from Colombia's rainforest
Now that Colombia has boosted security in Las Orquídeas National Park, ecological researchers are able to investigate a region that could be more diverse than the Amazon.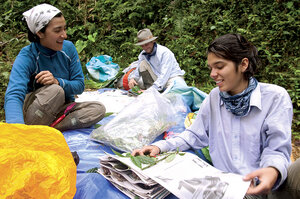 Fredy Gómez
Bogotá, Colombia; and New York
A band of humid rainforest hugs Colombia's Pacific coast, isolated from the rest of South America by the formidable Andes mountain range. Known as the Chocó biogeographic region, it is a treasure trove of biodiversity. And Las Orquídeas National Park, straddling the border between the rainforest and the mountains, is like a jewel in the crown.
Despite the biological bounty of Las Orquídeas, much of it remains unexplored. For 13 years research was all but suspended here because of the presence of illegal armed groups in and around the park. But stepped-up security efforts by the Colombian government have recently made it safe enough for a team of scientists from the New York Botanical Garden and the Universidad Nacional de Colombia to return in a three-year effort to document its ecological riches.
Earlier this month, the researchers returned from their second expedition into remote areas of the park with close to 900 plant specimens – among them are perhaps dozens previously unknown to science. The goal of the project, funded by the National Science Foundation, is to create an inventory of as many plants as possible.
---