Retired military general leads in Guatemala presidential election
Otto Perez Molina is the front-runner in the Guatemala presidential election after Sunday's first round, though he did not garner enough votes to avoid a November runoff.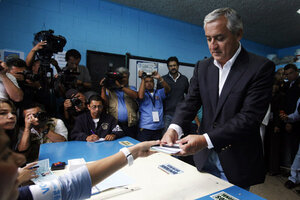 Edgard Garrido/Reuters
Nebaj, Guatemala, and Mexico City
A right-wing retired military general in Guatemala promising to use an "iron fist" to wrest control of the country from criminals has taken the lead in the country's presidential race.
With 90 percent of ballots counted, Otto Perez Molina of the Patriot Party captured 36 percent of votes. His margin of victory shows a wearied public seeking stability, but he did not garner enough support to avoid a run-off.
He will face businessman Manuel Baldizon, who won 23 percent of the vote, in a run-off in an early November, according to preliminary results. Eduardo Suger finished third place, ahead of seven additional candidates, including Nobel Peace Prize winner Rigoberta Menchu on the left. She captured just 3 percent of votes.
"We are confident that in the next round, the second round on November 6, we will win again and win by a strong margin," Mr. Perez Molina was quoted by Reuters as saying Monday morning.
Guatemala has been wracked by violence, and many voters looked to Perez Molina as the candidate most able to regain a sense of order, even in areas at the heart of the country's 36-year civil war where allegations of state abuse are rampant.
"He has the leadership to normalize the crime here," says Gasper Utuy, from Chajul in the mountainous Ixil region. "I am not scared of the past returning because it can't return. We had a war because of the guerrillas and now they're not there. Now we have narcos and the Patriot Party can take care of that."
---