In Venezuela, top Chávez rival sounds confident note after key court victory
An Inter-American Court of Human Rights (IACHR) ruling on Friday cleared opposition leader Leopoldo López to run for Venezuela's presidency next year.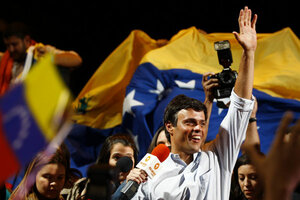 Jorge Silva/Reuters
Venezuela's fiery leftist President Hugo Chávez is laughing off an international court's decision to clear opposition leader Leopoldo López's bid for the presidency next year.
"One of my haircuts is worth more than this court," Mr. Chávez joked Saturday, playing on the fact that the Spanish "corte" means both "court" and "cut."
Venezuela's government insists that the Friday decision was politically motivated and is attacking the Costa Rica-based Inter-American Court of Human Rights (IACHR) for its association with the Organization of American States (OAS), which it has accused of being a tool of US hegemony in the region.
IACHR decisions are supposed to be binding and the court is unlikely to reverse its decision in favor of Mr. Lopez, a charismatic leader and former mayor who was banned – along with hundreds of others – from standing for public office based mostly on what the opposition claims are trumped up corruption charges.
Whether Chávez's government maintains the ban on Lopez in spite of the IACHR ruling will be a test of Venezuela's commitment to democracy, experts say.
It's a test López believes Venezuela will pass, and – bouyed by the court's ruling – the top opposition leader is sounding increasingly confident heading into the 2012 election season.
---