Mexican families struggle to find drug war's 'disappeared'
Thousands of people have disappeared without a trace amid the ongoing drug war in Mexico. Their families are now demanding action from the Mexican government.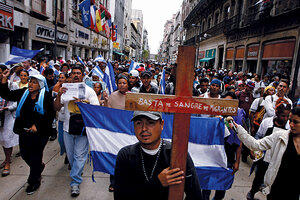 Marco Ugarte/AP
Veronica Coronilla said goodbye to her husband on March 21 as he set off from their home in rural Guanajuato in central Mexico with 22 other men to enter the United States illegally to find work. It was her husband's fifth trip, so Ms. Coronilla was not worried.
But weeks went by with no word. Then news came that bus passengers were going missing in northern Mexico and that a mass grave in the state of Tamaulipas, right where he was to pass. Dread set in.
Now, months later, she still has no news of him. She doesn't think he was in the mass grave, but is he in another? Or has he been kidnapped and forced to labor for a drug gang? Where is he?
These are the questions that plague Coronilla and thousands of others whose relatives from across Latin America have vanished in recent years as lawlessness prevails in large swaths of Mexico. Now, family members of the missing are starting to unite to call for more government action to help end the epidemic of disappearances across the country.
Recently, Coronilla, along with three other women from her hometown whose relatives are also missing, traveled to Mexico City to demand that federal authorities investigate. "If we don't do this, people will start to forget," she says.
'A humanitarian tragedy'
---