Panama bracing for ex-dictator Manuel Noriega's return
With Gen. Manuel Noriega's extradition from France set for Oct. 1, Panama could be forced to finally face its unpleasant past – and reflect on just how confident it feels about the future.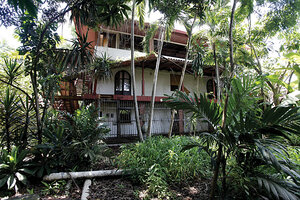 AFP/Newscom
Filled with colorful chapters of revolution, civil unrest, and tin-pot tyrants, the history of Latin America has a way of repeating itself. So many Latin Americans keep one leery eye on the past at all times, acutely aware that it could sneak ahead into the future if the present is not managed properly.
But Panamanians are an exception: relentlessly optimistic, loath to ponder their own recent history of iron-fisted rule under strongman Gen. Manuel Noriega, still known disparagingly on the streets of Panama as "pineapple face."
Since Noriega was whisked away to face trial in Miami following the 1989 US invasion, the former dictator and his reign of terror have been mostly set aside by Panamanians. Freed from its olive-drab past, Panama has experienced rapid growth, with an economy growing near 10 percent and new buildings – including a Trump tower – shooting up across the skyline.
But the likely repatriation of Nor­iega, who has spent the past 21 years touring jail cells in Miami and Paris, could force this country to finally face its unpleasant past – and reflect on just how confident it feels about the future. (Noriega's repatriation is set for Oct. 1, after his extradition was approved by a French judge on Friday.)
---