What's Iran up to in Latin America? Alleged assassination plot deepens concerns.
Iran's ties to Latin American leaders have been growing in recent years, but the alleged assassination plot against the Saudi ambassador to the US is drawing attention to its less savory activities.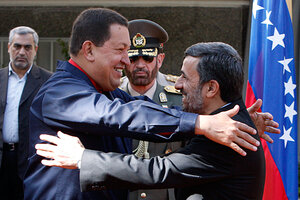 Vahid Salemi/AP/File
The alleged plot by Iranian agents to hire a Mexican drug trafficker to assassinate the Saudi ambassador to the US has reignited the debate over Iran's intentions in Latin America.
Iran has cozied up to several Latin American leaders in recent years as it inks projects to expand trade – and influence – in America's back yard. Many dismiss this as nothing but politics: perhaps a concern, but not a threat.
Others voice outright fear that Hezbollah and supporters in Iran seek to attack US and Israeli interests with the help of drug cartels south of the border. The news of the alleged assassination plot by two agents tied to Iran is already raising the volume on this view.
"It is going to stir up a lot of interesting questions about Iranian connections in the Western Hemisphere," says Ray Walser, an expert on Latin America at the conservative Heritage Foundation.
Speaking to the Associated Press, Secretary of State Hillary Clinton said the foiled plot "creates a potential for international reaction that will further isolate Iran, that will raise questions about what they're up to, not only in the United States and Mexico."
---