Trade deals: US-Colombia FTA ratified, but will it help Colombian workers?
Trade deals with Colombia, Panama, and South Korea were ratified last night. Progress to protect Colombian trade union members has been made, but the murder rate of Colombian workers remains high.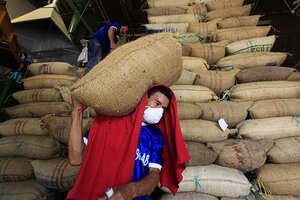 Jose Miguel Gomez/Reuters
The United States Congress last night ratified a long-debated free trade agreement (FTA) with Colombia, five years after it was originally signed by President George W. Bush.
The long delay in ratification, initially supported by the Obama administration and Democrats in both houses of Congress who were pressured by US-based human rights and labor groups to insist the Colombian government provide more workers' rights protections, led to some steps to improve labor rights in Colombia, one of the most dangerous places in the world to be a trade union member.
But now rights advocates and Colombian workers fear the chance to consolidate the modest gains made while the FTA was stalled will soon be lost due to lack of pressure.
"We have forfeited an important lever," says Rep. Jim McGovern (D) of Massachusetts, one of the most vocal opponents in the US Congress to the Colombia FTA. "I'm worried that all these commitments will fall by the wayside."
Changing the discourse
---