Mexico's 'temporary' marriages: till death – or two years – do us part
Mexico City is studying a plan to introduce 'temporary' marriage licenses – letting couples choose after two years to split or renew the license for life – in an effort to mitigate the effects of divorce.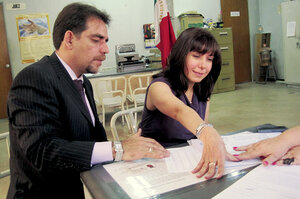 Sara Miller Llana/The Christian Science Monitor
Like so many brides before her, Luz Maria Ortiz, standing in front of a judge at a Mexico City civil registry with her fiancé, Jorge Valero, says she is both thrilled and nervous. "Life will change forever," she says after the ceremony.
But her wedding jitters could be a thing of the past – if legislators get their way in Mexico City.
The left-leaning assembly is studying a new initiative to introduce temporary marriage licenses that would expire after two years if the couple so desires.
The proposal, intended to reduce the bureaucratic costs and emotional toll of divorce, has garnered as many fans as foes: Some see it as a pragmatic alternative, while others, including the Roman Catholic Church, see it as an attack on family values. It comes as Mexico grapples with its own culture war in the world's second-largest Catholic country.
"The centrality of family in Mexico is changing," says Norma Ojeda, a sociologist at the San Diego State University who has studied the evolution of marriage in Mexico since the 1970s. "That is something that is part of a global social change in many countries."
To its authors, the proposal reflects social changes in Mexico City, where they say most divorces occur in the first two years. If after two years, couples decide to until "death do us part," they can renew their licenses. If not, the proposal specifies how children and property are handled.
---