Cuba legalizes private real estate transactions
Allowing Cubans to sell and purchase homes, a move announced Thursday in Cuba, is the biggest reform of its kind under Raul Castro.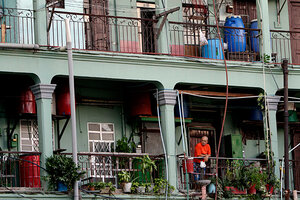 Franklin Reyes/AP
On the heels of news that Cubans would now be allowed to buy and sell used cars of any kind (they used to only be allowed to do so with the pre-1950's era almendrones sputtering around the island), today Cuba announced that natural-born Cubans and permanent residents will now have the right to buy and sell their homes, and transfer ownership to others on the island. Not surprisingly, the rules come with some caveats, like only one primary residence and one vacation home allowed.
These are still incredibly meaningful changes, and the fact that these sorts of changes have finally begun rolling out might explain why Freedom House – no fan of the Cuban government due to its human rights record – found optimism in a recent survey it conducted on the island. Whereas a year ago, when I last traveled to the island, I detected mounting impatience (a sort of, "this is never going to change" attitude), Cubans can now see real changes are finally on the way and here to stay. Particularly important is the apparent willingness of the Cuban government to keep revising rules – to allow farmers to work even larger parcels of land than first granted several years ago, to let paladars serve fifty, not just twenty, customers – when they don't work as well as they should, that should really offer hope.
There's still so much to do: bureaucrats in the way, as Raul Castro himself has complained, too many imports and not enough exports (though major government belt-tightening has gone a long way to alleviate that problem), highly educated workers with not enough jobs to complement their skills (and thus a brain drain exacerbated by incredibly generous US immigration policies towards Cubans), and more.
---