Daniel Ortega appears set to win presidential election in Nicaragua
But critics say that Daniel Ortega's overwhelming electoral win, of dubious constitutionality and marred by irregularities, will only serve to underscore Nicaragua's autocratic government.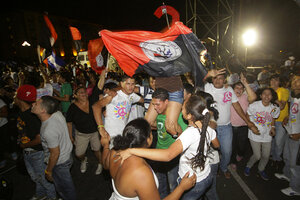 Miguel Alvarez/AP
Sandinistas took to the streets jubilantly in the early morning hours Monday to celebrate what appears to be a resounding victory in the legally questionable reelection campaign of President Daniel Ortega.
A preliminary vote count announced Monday morning at 2 a.m., with 16 percent of the ballots tallied, shows the Sandinista strongman leading with 63 percent, followed by octogenarian radio producer Fabio Gadea, with 29 percent. Former President Arnoldo Alemán is in third place, with 6 percent. A final vote count will be announced today at noon.
The preliminary results for National Assembly are similar, meaning that, if the numbers hold, Mr. Ortega will win a majority in the legislature and essentially take full control over all branches of Nicaragua's government – despite ongoing doubts that his election to a third term is legal under Nicaragua's Constitution.
Ortega's comeback
For a man whose political career seemed washed up a decade ago – he had lost three consecutive election bids (1990, 1996, 2001), was accused of sexually abusing his stepdaughter and was reportedly teetering on the edge of financial hardship – the Sandinista leader's comeback is nothing short of stunning. Not only does he have more political power now than he did in the 1980s, when he led the Sandinista revolutionary government as "the first among equals," but he's also now thought to be of the wealthiest individuals in Central America, thanks to his private investment of some $2 billion in Venezuelan aid over the past five years.
Ortega's handling of Hugo Chávez's largess has allowed certain Sandinistas to become part of Nicaragua's nouveau riche, invested heavily in multiple sectors of the economy, from energy production and oil distribution to timber, cattle, agriculture, tourism, and media.
---