For Cubans, new property rights – and the return of an old anxiety
President Raúl Castro's latest reform lets Cubans buy and sell property for the first time in decades. But the reform has some worried that it could reintroduce pre-revolution class divisions.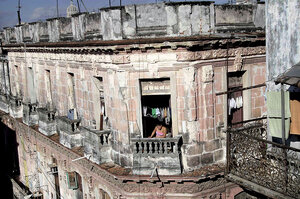 Franklin Reyes/AP
First it was a radically different scene at shopping centers in Havana: curious Cubans perusing cellphones and other luxury items that they could finally buy – legally – if they had the funds.
Then it was advertisements going up on homes and buildings, with everyone from salon owners to stonemasons offering services as the government increased permits for the self-employed.
And now, long lines are stretching outside notary offices and banks in the country's capital, with Cubans eager to begin the process of selling and buying their homes, a right granted in mid-November for the first time in more than half a century.
It is the latest reform under Cuban President Raúl Castro, who is attempting to revive the flailing economy and, in doing so, is radically changing the landscape of the communist island.
The housing reform – affecting the widest swath of the population and with the potential to bring in unheard-of revenue streams to Cubans across the country – is considered the most far-reaching reform to date under Mr. Castro, who took over from his ailing brother Fidel in 2008.
"Not everyone can become an entrepreneur or wants to," says Ted Henken, Cuba expert at Baruch College at the City University of New York (CUNY). "Not everyone can have a car or wants to get one."
But, he says, all Cubans need a place to live, and their right to basic housing has been unmet for decades, with a shortage of quality units that Cubans have worked around with their signature creativity.
Many Cubans say they welcome the new reform, not just for the liquid assets it might usher in, but also because it may represent people's best chance yet to take control of their own lives.
---