Burqa ban: Canada prohibits Muslim veil in citizenship ceremonies (VIDEO)
Canada's ban follows those of France, Tunisia, Turkey, and Syria, and is meant to ensure that those taking the oath of citizenship are actually reciting the oath.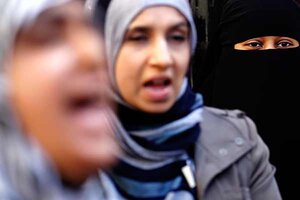 Luke MacGregor/Reuters/File
Canada, a country that prides itself on having one of the world's most liberal systems for immigration, just banned women from wearing veils while taking the oath of citizenship.
Limited to citizenship ceremonies, Canada's new rules make it the second nation after France to ban face-covering garments in public, although there are a number of countries in Europe that have begun to target Islamic fashion and religious observance in the past few years.
France's conservative government passed a veil ban in October 2010, a law that went into force in April 2011. The Netherlands also indicated in September that it would impose a ban on veils because the "wearing of clothing that completely or almost entirely covers the face is fundamentally at odds with public life." In August 2009, Switzerland outlawed the construction of new minarets at Swiss mosques.
Canada's minister of citizenship and immigration, Jason Kenney, told reporters that he found it "bizarre" that Canada's rules had once allowed women to wear face-concealing garments during their citizenship ceremonies.
---