Rio building collapse: Will Brazil be ready for the Olympics? (+video)
Three buildings in Rio de Janeiro collapsed late Wednesday. The latest in a string of construction woes, the accident is raising concerns about preparation for the 2014 World Cup and 2016 Olympics.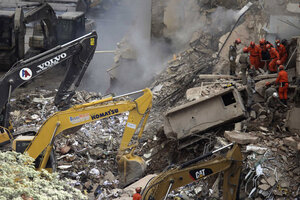 Ricardo Moraes/REUTERS
The collapse of three buildings in the center of Rio de Janeiro sounds a sharp cautionary note for Brazilians as the country rushes to build homes, hotels, transports links, and other infrastructure projects ahead of the 2014 World Cup and 2016 Olympics.
Three people have been reported dead and 19 missing after the buildings came down late Wednesday night, reportedly after a loud explosion. Because of the time, the buildings were largely empty when they collapsed. Rescue workers with sniffer dogs continued to dig through the rubble Thursday morning looking for any survivors.
Officials are pointing to potentially shoddy work as a cause, highlighting what has been an ongoing concern about construction and infrastructure in South America's biggest nation – and the world's sixth-biggest economy.
"There was probably a structural failure in biggest building – of 20 stories – that led to the collapse of the two smaller buildings of 10 and four stories," said Rio de Janeiro Mayor Eduardo Paes.
Even at the highest levels, Brazil's infrastructure projects are routinely late, poorly built or over budget, or all three. Stadiums for the World Cup were late to get started and public transport, particularly airports, are frequently chaotic.
---