Biden in Honduras: US drug policy under scrutiny
Even staunch US allies in the Americas are urging a debate on drug policy – including legalization – amid spiraling violence in their countries.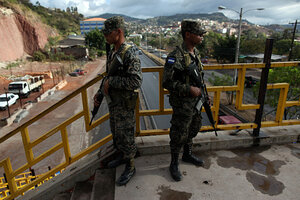 Esteban Felix/AP
As US Vice President Joe Biden arrives in Honduras to meet with Central American leaders today, the long accepted playbook on a top issue – the war on drugs – is coming under sharp scrutiny.
In the past five years, drug-trafficking violence has led to spiraling death tolls, overflowing prisons, and overwhelmed justice systems across Mexico and Central America. Now, led by Guatemalan President Otto Perez Molina, leaders are starting to question a policy review is needed, including a debate on legalizing narcotics.
It is not the first time players in the region have questioned hardline tactics. But now the message is coming from sitting presidents in staunch US allies, from Costa Rica to Colombia. So far the US has dug in its heels, but the pressure is mounting.
"This is a sign of what is to come.... Increasingly, countries are less afraid to explore other alternatives," says Jorge Hernandez Tinajero, the president of CUPIHD, a civil society organization in Mexico that disseminates information about drug policies. "It makes it harder for the US to continue justifying the status quo."
Mr. Biden was in Mexico Monday, where he showed no sign of shifting US policy on the matter.
"It's worth discussing, but there is no possibility the Obama/Biden administration will change its policy on legalization," he said after meeting with Mexican President Felipe Calderón and the three presidential candidates for the upcoming July race.
---