If you build it, they won't come? US bases in Caribbean target drug trafficking.
With resources stretched thin, the US is now teaming up with small Central American and Caribbean nations to build military bases to combat drug trafficking.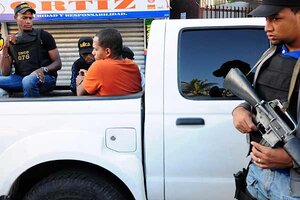 Ricardo Rojas/Reuters
Santo Domingo, Dominican Republic
The US military will build a base for the Dominican Navy on a small island here, consisting of barracks, a command center, and reconstructed pier. The project came at the behest of Dominican authorities witnessing an increase in drug trafficking on their coastline. It is one example of a regional approach the Pentagon is taking to catch drug shipments, the bulk of which are destined for the US.
The base is tiny compared with US installations elsewhere in the Americas, and it will have no US personnel. With its own resources stretched, the US is increasingly turning to allies like the Dominican Republic to combat trafficking. The Pentagon has built similar bases in Belize, Nicaragua, Panama, Guatemala, and Costa Rica and ramped up its presence at the Soto Cano Air Base in western Honduras, where about 600 US soldiers are stationed.
Despite these efforts, however, only one-third of detected drug shipments are intercepted and the rate is dropping. "More is getting through," Air Force Gen. Douglas Fraser, chief of Southern Command (SouthCom) told reporters Wednesday, a day after testifying before the House Armed Service Committee.
---