Catholicism in a communist land: Pope Benedict XVI travels to Cuba
Cuba was declared an atheist state after the 1959 revolution, but many dissidents are looking to Pope Benedict XVI to help bring more political reform to the island.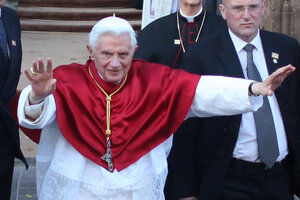 Alexandre Meneghini/AP
Pope Benedict XVI lands in Cuba today, 14 years after the first papal visit to the island. In the years that have passed since Pope John Paul II promised to open the last bastion of communism in the Americas to Catholicism and the world, Cuba has started slowly down a path toward reform.
As the regime gradually warms to religious institutions, Cuban dissidents are hoping this week's papal visit will amplify their voices, long repressed by authorities here. The pope offered them some hope while visiting Mexico last weekend. Yesterday, he entertained several hundred thousand people at an open-air mass in a park outside Silao, Mexico.
"Today it is evident that Marxist ideology in the way it was conceived no longer corresponds to reality," he said, adding that the Catholic Church was ready to help Cuba find new ways of moving forward "without trauma."
It is a long road to democracy and freedom of religion, however. After the 1959 Revolution, the Cuban government expelled priests and nuns, and seized Church property. Believers were banned from the Communist Party, and Cuba became, according to Fidel Castro, an atheist state. But the Catholic Church has proven its ability to push reform in the past. Christmas was once again celebrated as a national holiday just in time for John Paul II's visit in 1998. And the Church has found a more prominent role, led by Cardinal Jaime Ortega, under Raul Castro who has ruled since 2008.
---