FARC hostage release raises hopes for Colombia peace talks
The release of all hostages is a condition for opening talks with the FARC to end decades of internal conflict in Colombia, but analysts say peace talks won't begin any time soon.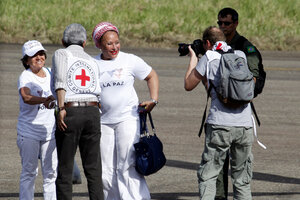 John Vizcaino/REUTERS
Colombia's largest rebel group is due to begin releasing the last of its government hostages today, in what is being heralded as a first step toward possible peace talks, though analysts warn negotiations are unlikely to begin any time soon.
The Revolutionary Armed Forces of Colombia (FARC) said it would release ten members of Colombia's security forces, some of whom have been held for as many as 14 years, in a two-stage process that will begin today and conclude on Wednesday.
Families of the hostages gathered in the city of Villavicencio in Meta province yesterday, and the government prepared for the departure of two Brazilian helicopters that will set out with Piedad Cordoba, a former Colombian senator who has acted as facilitator in recent hostage releases. They will retrieve the men at an undisclosed site in the jungles of Colombia today, and the government agreed to cease military operations in the general area of the releases.
The 10 men, whom the FARC calls "prisoners of war," are the last remaining "swappable" hostages that the rebels once hoped to exchange for jailed FARC members. Nearly all were captured during FARC attacks on military bases and police stations in the late 1990s. The FARC announced the impending release in a February communiqué in which they also announced a ban on future kidnappings for ransom.
Voices of kidnapping
Every Saturday at midnight until 6 a.m. on Sunday, Caracol Radio airs a program called "Voices of Kidnapping" where relatives of hostages read out messages of hope and strength to their loved ones. The program has become such an institution that hostage keepers allow their captives to listen.
---