On Earth Day, Canada's native Innus march to save their land, identity
The Quebec government is opening up its northern region to mining and energy companies, sparking concern among the native Innu, who fear they will lose their ancestral lands.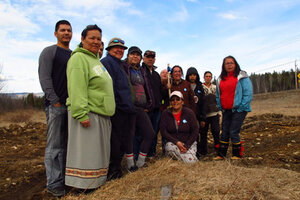 Lorraine Mallinder/Special to the Christian Science Monitor
A group of women are hanging around on the side of a cracked highway, framed on either side by dense pine forest. They chatter loudly against the roar of passing trucks, drinking coffee and dragging on cigarettes. A few are texting Facebook updates on their smart phones. One carries a stick decorated with ribbons and eagle feathers.
These women have just walked about 300 miles from Uashat Mak Mani-Utenam, an Innu reservation in the northern wastes of Quebec, Canada. They're on their way to Montreal to join Earth Day protests against the Quebec government's multibillion-dollar plans to open the north of the province to mining and energy companies.
At the beginning, there were only 14 women, but along the way they've picked up supporters, both male and female, from other reserves. Now, at the midway point, they are nearly 40 strong and, thanks to Facebook, growing.
"I would never have imagined we'd get this far," says Elise Vollant, a former nursery school teacher who organized the march.
While more than two thirds of the affected area's native groups are open to the government's plans, anticipating jobs and investments in healthcare, education, and infrastructure, the Innu have been more difficult to convince. Five out of seven Innu communities in Quebec oppose the plans because they fear the environmental impact that exploitation of resources like iron ore, nickel, and diamonds might have on their ancestral lands.
---