This is a debate? Mexico's presidential face-off a scripted affair.
Mexico's presidential debate was highly structured and scripted last night, leaving little room for candid conversation on important policies like security and education.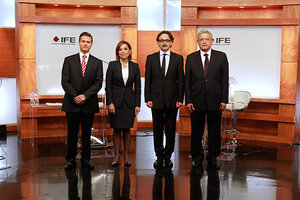 IFE/AP
The front-runner in Mexico's presidential race, Enrique Peña Nieto, might have movie star looks and a seemingly unbeatable lead ahead of the July 1 election, but he also has a knack for gaffes when straying from the script.
So if anything is his to lose, it is the presidential debates, the first of which took place last night in Mexico City.
His opponents tried to put him on the spot: They attacked his term as governor in the state of Mexico, and suggested that if he won, the country would return to corruption and cronyism. His party, the Institutional Revolutionary Party (PRI), ruled Mexico for 71 years, and is believed to have made pacts with drug cartels as part of their governing strategy.
But it appears that Mr. Peña Nieto held his own. He made no major fumbles that could go viral across social media, contrary to his December slip-up at a book fair when he was unable to cite any books, beyond the Bible, that influenced him.
But this probably has less to do with a new-found skill to talk off the cuff. Instead, the debate itself was highly structured, lending itself to the kinds of scripting that serves Peña Nieto well. All four presidential candidates agreed to the format beforehand, and in fact, they even knew which questions would be asked of them. Each candidate had two minutes to respond, and 90 seconds for a rebuttal.
As a result, instead of a lengthy, dynamic conservation that could push the agenda forward on the economy, security, and education, last night's debate was mostly an evening for candidates to articulate their positions (again), peppering them with attacks and counter-attacks.
"Everyone talked about what they wanted," says Aldo Muñoz, a political analyst at Mexico State's Autonomous University. "None of the issues were talked about with profundity. So the one who wins the debate is the one who was ahead in the first place."
---