Brazil, Venezuela, and Mexico: three ways to nationalize oil
Argentina's renationalization of its biggest oil company, YPF, recently caused an outcry. But the cases of oil nationalization in Brazil, Mexico, and Venezuela show that outcomes can vary widely.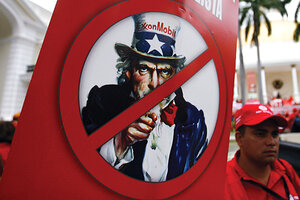 Jorge Silva/Reuters/FILE
"Nationalization is an old story in Latin America," says Larry Birns, director of the Council on Hemispheric Affairs. "Almost as old as oil itself." When countries choose to nationalize natural resources there are usually dire predictions that investors will flee and economies will crumble. These three cases of oil nationalization illustrate that investor panic can be shortlived and that a country's approach matters. But nationalization can hamper innovation and constrain a country's potential for investment.
MEXICO
President Lázaro Cárdenas nationalized Mexico's oil industry in 1938, kicking out US and European firms and setting up state-run Petroleos Mexicanos (Pemex). Today it still ranks as one of Mexico's most popular decisions.
Pemex was not the first national oil company in the Americas – YPF of Argentina was – but Mexico's expropriation is the region's first example of a classic state takeover. Since then Pemex's door has, under Mexico's constitution, been tightly sealed to foreigners.
Although foreign governments boycotted Mexican oil in retaliation, over time nationalization was considered a boon for Mexico. With the finding of the massive Cantarell field in the 1970s, Pemex grew into one of the largest oil companies in the world. Its revenues pour into Mexico's coffers, funding about a third of the federal budget.
---