Massacre in Mexico deepens country's violent image
Forty-nine bodies were dumped on a highway in northern Mexico in the latest example of drug-related violence that is scaring off investors and changing citizens' behavior at home.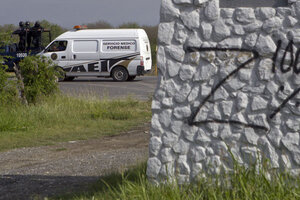 Christian Palma/AP
Forty-nine bodies have been dumped on a highway in northern Mexico – and by the time the world wakes up Monday morning, the harrowing image will have been beamed across the globe.
Mexico's drug violence has been a public relations nightmare for President Felipe Calderon. The crime scenes inevitably make world news, scaring off would-be tourists and causing foreign investors to think twice.
But imagine being a resident of one of the cities where violence is playing out, with the misfortune to witness the mayhem not on a television set but firsthand.
That is what happened to Carolina Gomez, a young teacher who happened to drive past a similar scenario in her home of Veracruz, in eastern Mexico, when 35 bodies were left under a highway overpass in the middle of rush hour traffic last September. She had been on her way to a tutoring job after school.
The Monitor profiled her family in a cover story about the ways that violence is impacting Mexicans not directly swept up in it.
The dumping of the bodies was a tipping point for the city of Veracruz, but also in the personal story of Ms. Gomez. As a teacher, she had heard cases of parents kidnapped, and even seen a corpse left outside of her school. She had to take security training on what to do in the case of a shootout. And she never left home – including on this day – without checking Twitter first to map out safe routes.
---