Will the United Nations' legacy in Haiti be all about scandal?
The accomplishments of the UN peacekeeping mission in Haiti have been overshadowed by scandals, from a cholera outbreak to sexual abuse cases. How will this affect future missions?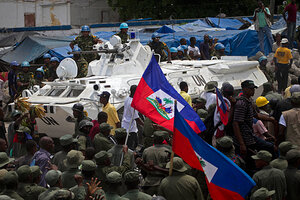 Ramon Espinosa/AP/File
When the United Nations deployed peacekeepers to Haiti in 2004, its troops were charged with restoring order following the tumultuous departure of then-president Jean Bertrand Aristide. Their presence brought a much-needed calm after months of violence and political unrest. In the years that followed, they provided security for two democratic elections and, after Haiti's devastating 2010 earthquake, pitched in with recovery and reconstruction efforts.
But that's not the only legacy MINUSTAH, as the peacekeeping mission is referred to here, has created. Once popular, the UN mission now is viewed by many as a poor use of money and an unnecessary presence – a result in part of numerous scandals that have rocked the mission in recent years. From accusations of sexual abuse of two boys, ages 14 and 18, to the deadly cholera epidemic, peacekeepers are being blamed for impeding the path to a sustainable state.
"[MINUSTAH] came to help us," says Arsene Dieujuste, a lawyer representing the 14-year-old boy. "But they ended up violating our human rights. Someone has to make this as right as possible, even though it will never be right again."
'What happened is ying and yang'
When MINUSTAH set up in Haiti in 2004, the peacekeepers tackled rogue officers from the defunct military and secured access to parts of the capital that had been off limits due to gang monopolies. When successive storms left thousands homeless in 2007 and 2008, the mission responded by delivering tangible goods and services to people and the government of Haiti. This was also true after the 2010 earthquake, which took the lives of over 200,000 people, including 96 UN peacekeepers.
---