Rio+20: Growing cities and the search for clean water access
Lives revolve around finding water in parts of Mexico City, a megacity where 33 percent of residents don't have daily access to it.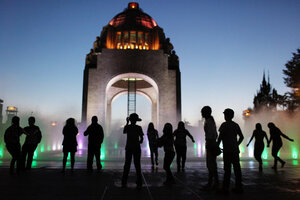 Alexandre Meneghini/AP
In the leadup to the Rio+20 global sustainability conference in Brazil this week, many were skeptical that world leaders could even agree on a draft agenda before they gathered in Rio to talk about it. But action at the local level – far from the lofty debates and political considerations – is another matter. Many see hope for progress in places where the immediate need for access to vital resources and greener growth is palpable.
In Mexico City, water is the driving force for change in some communities. As light starts to filter through the one-room home Margarita Garcia Velazquez shares with her husband and four children on the fringes of Mexico City, for example, Ms. Garcia Velazquez cannot turn on a faucet to brush teeth or wash little faces.
In fact, every move she makes with children, ages 2 to 12 – from cleaning the breakfast dishes to scrubbing the dirt out of school uniforms – requires that she first walk down two dozen steps to the road in front of her house. There await four large barrels of water that hold her entire week's supply of water. Garcia Velazquez fills her two buckets and then carries them back up again.
Getting water to its 20 million residents is one of Mexico City's most vexing problems. At an altitude of more than 7,300 feet, the city takes water from aquifers that aren't naturally replenished, so it must pump the rest up 3,000 feet to reach residents. Because of sprawl, some 5 percent of Mexico City is not connected to the water supply, says David Vargas, the chief operating officer of Isla Urbana, a nonprofit group that works with residents of Tecalipa, where Garcia Velazquez lives, to build rainwater catchment systems.
Because demand outweighs supply, another 33 percent of Mexico City residents don't have daily access to water.
---