The Argentine president's secret weapon? A super-charged youth movement.
La Cámpora, a political youth movement – 30,000-strong and mostly under 30 – is one of Fernandez de Kirchner's most significant political tools. But they stand out for more than just solidarity.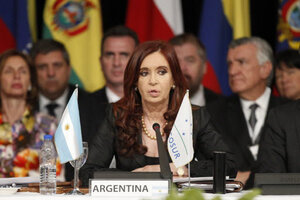 Enrique Marcarian/REUTERS
Moments after Argentina's Congress passed a historic bill in April to nationalize the Spanish majority-owned oil company, YPF, a banner taking up half of the Congressional chamber was unfurled from the balcony. It depicted former President Néstor Kirchner with his fist raised in the air victoriously.
The same banner was on view just a week earlier during a rally attended by 100,000 activists in support of "the project" – a left-wing political ideology implemented by Mr. Kirchner before his 2010 death, and continued today by his wife, Argentina's current president, Cristina Fernández de Kirchner.
Both scenes were the work of La Cámpora, a political youth movement – 30,000-strong and mostly under the age of 30 – whose support for the president is unwavering.
A continuation of the Peronist Youth to which Cristina and Néstor belonged in the 1970s, La Cámpora emphasizes Juan Domingo Perón's fight for the poor and the Kirchners' policies of social inclusion and state intervention.
But the group stands out for more than just its forthright display of solidarity: members are appointed high-ranking government positions, it is spearheaded by the Kirchners' son, Máximo, and it is viewed as one of Ms. Fernández's most significant political tools – one she desperately needs right now.
'Soldiers of Cristina'
Fernández won a second term last October with 54 percent of the vote, but her approval rating has dropped to 39 percent, according to polls.
---