Hugo Chávez vs Henrique Capriles: Venezuelan vote will have regional impact
Whether Chávez or Capriles wins will affect national issues like fighting crime, but will also impact regional neighbors like Cuba and the Dominican Republic that depend on Chávez's oil diplomacy.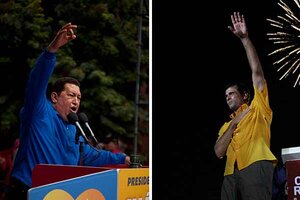 Nicolas Garcia/AP, Fernando Llano/AP
Caracas, Venezuela; and Mexico City
On Sunday, Venezuelans will head to the polls to vote in a race with arguably the most significant policy implications of their lifetime.
Whether voters decide to keep current President Hugo Chávez in power or pass the position to the opposition candidate, Henrique Capriles, will have a direct impact on their daily lives. From the way oil revenue is distributed and crime is tackled, to the ways laws are passed and court cases are decided – two very different Venezuelas could emerge after Oct. 7.
But the race will also have a far-reaching influence outside of Venezuela too, impacting the rest of Latin America – both pragmatically and politically. If president Chávez loses it could be felt by regular Cubans, who are recipients of highly subsidized oil, or Dominicans, who drive down Chávez-financed roads. And while the leftist movements in Latin America would certainly not disappear if Chávez no longer heads Venezuela, their agendas would be weakened – for good or bad – depending on the disparate points of view on Chávez, one of the most polarizing figures in modern Latin American history.
"The election is going to have a major impact on the region," says Steve Ellner, a political science professor at Venezuela's University of the East and the author of "Rethinking Venezuelan Politics: Class, Conflict, and the Chávez Phenomenon."
"If you examine what people are saying … across the political spectrum, they all single out Venezuela as a key country," Mr. Ellner says.
Balancing the Universe
---