Haitians, Dominicans try to move beyond Parsley Massacre's long shadow
The Parsley Massacre, which killed thousands 75 years ago, profoundly altered relations between Haiti and the Dominican Republic. Recently, hundreds of people gathered on the border to address its legacy.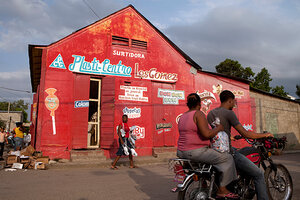 Melanie Stetson Freeman/The Christian Science Monitor
Dajabón, Dominican Republic
In the long-strained relationship between Haiti and the Dominican Republic, perhaps the darkest moment took place near this border town in October 1937. Dictator Rafael Trujillo ordered the killings of thousands of Haitians, whose bodies were dumped in the aptly named Massacre River that separates the two countries.
Seventy-five years have passed since the so-called Parsley Massacre killed upwards of 12,000 Haitians and Dominicans who tried to come to their aid. Yet in spite of its importance, the massacre was largely forgotten, not discussed or taught in Haiti and widely misinterpreted in the Dominican Republic. Scholars and activists, however, say its effects lived on, forever changing the relationship between Haitians and Dominicans, neighbors on the Caribbean island of Hispaniola.
Last week, however, led by members of the Haitian and Dominican diasporas living in the US, hundreds of people gathered along the border to recall the massacre and address its legacy. The three-day Border of Lights initiative was highlighted by a vigil in which hundreds of Dominicans and Haitians met on opposing sides of the river and sent candles adrift in its shallow waters.
"None of our governments have paused for a moment of silence in 75 years to say that this was a sad and painful chapter in our history and we have to learn from it in our daily dealings as a state, and as part of a total island," says Edwidge Danticat, an acclaimed Haitian author who helped organize the event.
---