50 years after Cuba missile crisis, US influence in hemisphere waning
Investment from emerging economies like China and Russia are diminishing Latin America's reliance on the US, making it more difficult for Washington to isolate regimes like Cuba.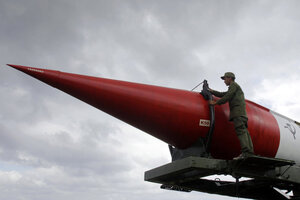 Ismael Francisco/AP
It was what many consider the most dangerous moment the world has ever faced: the Cuban missile crisis of 1962, which saw the United States square off over nuclear missiles stationed by the Soviet Union in Cuba.
This week marks the 50th anniversary of the beginning of the tense standoff. And while the politics of the cold war have little relevance for US-Latin American relations today, in some ways the US finds itself in the very position that set the stage for conflict in the first place, says Philip Brenner, a historian of the missile crisis at American University. With US influence waning in the region, Latin America is forging ahead with its own agenda.
It was not only the containment of communism that drove US attempts to oust Fidel Castro from the helm of Cuba in the early 1960s, says Mr. Brenner. The US was also concerned about Latin American countries emulating Cuba, particularly its geopolitical stance in the cold war, and thus undermining American leadership in the Western Hemisphere. Some 50 years later, the US faces the same situation, just a more modern iteration.
"What the US feared the most in 1962 has come to pass," says Brenner, who wrote "Sad and Luminous Days: Cuba's Struggle with the Superpowers after the Missile Crisis." "We were concerned about our sphere of influence that we had taken for granted.… [Today] we cannot dominate this region anymore. They do not look to us for leadership. Countries look within the region, and to some extent to Cuba still."
---