The Dutch woman who ran away with Colombia's FARC
Tanja Nijmeijer moved to Colombia in 2002 where she joined the FARC guerrillas in their fight against the Colombian state. She will be a part of their negotiating team during peace talks in Cuba this month.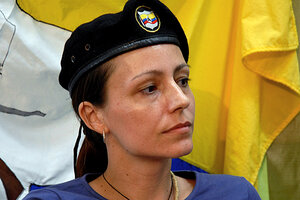 Jorge Pérez/Prensa Latina/AP
Smiling into the camera, a young female guerrilla picked up her guitar and dedicated a song to her family. "Don't Cry For Me Argentina," Tanja Nijmeijer sang to her parents in Holland, who had not seen her in years.
This scene in a 2010 documentary provided the first images of Ms. Nijmeijer since she abandoned a comfortable life in Holland eight years earlier to fight a communist war against the Colombian state.
This fall, her startling story was brought back into the international spotlight, following the launch of the first official peace negotiations between the Revolutionary Armed Forces of Colombia (FARC) and the Colombian government in more than a decade. Colombia's internal war has persisted for more than 50 years.
In the run-up to the second phase of talks between the government and the FARC due to start in Cuba on Nov. 15, the FARC announced Nijmeijer would form part of their negotiating team. Apart from being a rare female presence at the peace talks and helping internationalize the rebels' image, Nijmeijer provides unusual insight into the "revolutionary" psyche, and her trajectory from a middle-class European childhood to a spot alongside the FARC's top commanders can be hard to fathom.
Raised by a close-knit family in a small Dutch town, by the age of 20 Nijmeijer yearned for adventure and responded to an ad in a college newspaper to teach English in the western Colombian town of Pereira. She arrived in 1998, the year the Colombian government agreed to hold new peace talks with the FARC following a series of debilitating large-scale rebel attacks on its forces.
---