The man who remade Mexico City
Mayor Marcelo Ebrard has given Mexico's capital – once infamous for its pollution, lawlessness, and general chaos – new appeal thanks to environmental and civic programs.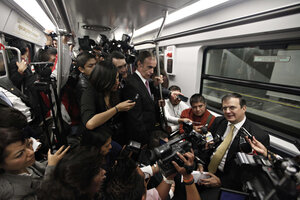 Eduardo Verdugo/AP
Jose Guadalupe Gonzalez walks among giant paper-mache renderings of fantastical dragons and serpents, called alebrijes, with his wife and two teenage daughters in the middle of Mexico City's Zocalo to celebrate Day of the Dead. Later, the family considered catching a play for free, also in the main plaza, or strolling along the nearby, new pedestrian streets of downtown Mexico.
In the winter the Gonzalez family goes ice-skating in the same spot. And on Sundays, any time of the year, they can hop on free bicycles and ride along Reforma, the city's most icononic thoroughfare.
In many ways, Mr. Gonzalez says his native city is an unrecognizable place, having transformed under leftist administrations and particularly the city's outgoing Mayor Marcelo Ebrard, who has become an international star of sorts among the municipal set.
"Before the lower classes did not have access to these leisure activities," says Gonzalez, a retired mechanic.
Mayor Ebrard steps down on Dec. 5 with wide approval ratings over his six-year administration, which has changed Mexico City both on the surface and in ways much deeper. For starters, Mexico City simply looks different. There are all-women buses that circulate the city and newly paved bike paths traversed by men in suits commuting to work.
Perhaps the most important changes have taken place under the surface, via new laws, climate action, and violence-combating plans. Abortion was legalized in 2007, as was gay marriage in 2010, and later gay adoption. Mexico City has been at the vanguard of ecological change, and has also been transformed by the things one no longer sees: It's now perceived as one of the safest places in Mexico.
---