Chile-Peru border dispute moves from battlefield to courtroom
A five-year legal battle over a Chile-Peru territorial dispute ends tomorrow. Countries have gradually moved their conflicts to the legal arena, but how the losing country reacts to the verdict will be telling.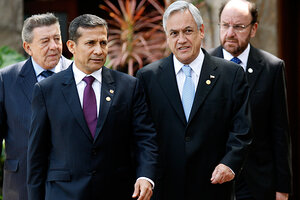 Karel Navarro/AP
Lawyers from Peru and Chile complete their arguments tomorrow in a trial to determine once and for all which country controls what acreage of the Pacific Ocean.
The trial will end a five-year process in which Peru has sought to expand its maritime territory, fixing a border that Peru claims was left undecided when the two countries finished the War of the Pacific in 1883.
That the two sides are fighting it out in a varnished wood courtroom rather than the battlefield shows how the world has changed in the last generation. Peru went to war with Ecuador over a patch of the Amazon in 1995, and Chile came close to war with Argentina in 1978 over control of part of Tierra del Fuego. Around the world, scores of boundaries remain in dispute, but countries have gradually moved their conflicts to the legal arena.
This route to resolving territorial disputes is freshly fragile. After the same court last month ruled against Colombia in a territorial dispute with Nicaragua, Bogota pulled out of a treaty committing it to respect the court's decisions. The court's ruling this time around – and how Chile and Peru react to it – could set the tone for future cases around the region and the world.
---